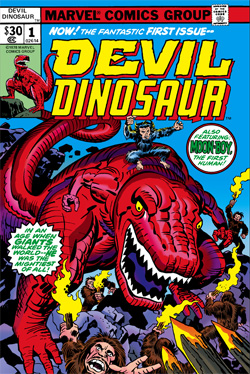 Devil Dinosaur by Jack Kirby Omnibus Vol. 1
Cover Image
_________________________
From the Mouths of the Marvels:
"Come, Devil! It will soon be night! Let us find shelter and listen to the wood spirits! They will shout your name to all who dwell in the valley!"
-- Moon Boy, to Devil Dinosaur, from Devil Dinosaur #1
_________________________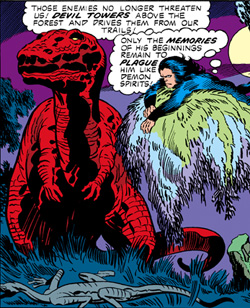 Moon Boy and his best friend, Devil, from Devil Dinosaur #1.
(Click panels for larger images.)
Devil Dinosaur Omnibus Vol. 1
---
Reprints: Devil Dinosaur #1-9

First Print
Release Date: July 11, 2007

184 pages

ISBN: 0-7851-2694-5 • List Price: $29.99 (US)/$35.99 (Canada)

Collection Editor: Mark Beazley

SPECIAL BONUS FEATURES:
Introduction by Tom Brevoort
"Dinosaur Dispatches" letters pages and essays by Jack Kirby
1978 House Ad for Devil Dinosaur
---
On Sale:
OMNIBUS LIST
---
JACKET COPY FROM DEVIL DINOSAUR BY JACK KIRBY OMNIBUS HC
"Just ahead lies all the fun and games which Darwin missed."
So sayeth Jack 'The King' Kirby in describing the creative spark behind his enchanting Devil Dinosaur, an alternate reality fable that recounts what might have happened had humans and dinosaurs roamed the Earth at the same time....and in typical 'King' Kirby fashion, finds the author wondering, "Who says they didn't?"
One of the latter-day titles from his final stint at Marvel, Devil Dinosaur's nine-issue run came and went in 1978, going mostly unrecognized for its gritty charm and episodic mythologizing. Seemingly crafted for an audience far younger than the other fare he was generating for Marvel at the time, Jack's grand tale is a prehistoric fable that seems to sell the notion that cooperation, friendship and loyalty were the lights that guided man out of the swamps and into civilization. Putting into play these notions were Devil Dinosaur and Moon Boy, brothers bonded not by blood but rather an uncommon spark of curiosity about their surrounding world. It was this curiosity - this compulsion to investigate and not take for granted the conventional wisdom of others - that separated them from their peers and put them at the vanguard of evolution.
Naturally, the dinosaurs in Devil's world came in many shapes and sizes, from triceratops, pterodactyls, ankylosaurs and tyrannosaurus rex – Jack draws 'em all! And, aside from Devil, most of them act the part of lumbering beasts! And Moon Boy finds himself rejected by his Small Folk kin for making friends with a fearsome T. Rex, and bullied by the Killer Folk that try to gain dominance in the forest by force!
Devil and Moon Boy's curiosity often lead them into heaps of trouble, but that's where the fun is for readers! Besides the vicious Killer Folk, led by the warlord Seven Scars, the boy and his dinosaur are beset by a host of dinosaurs, giant spiders, armies of enormous ants - and are visited by aliens from outer space! But in the end, what eventually wins the day is their friendship and fierce loyalty to each other that manifests itself in a remarkably courageous heroism - and as Jack seems to keen to note through subtext, it is this heroism that evolves the species!
Nearly thirty years after they were first created, this Omnibus edition dusts off the rare and woefully ignored pages of Jack Kirby's wild adventures in a prehistoric land, and restores them for a new generation of readers....perfect for any child – or the child within you!
---
DEVIL DINOSAUR BY JACK KIRBY PREVIEW IMAGES: