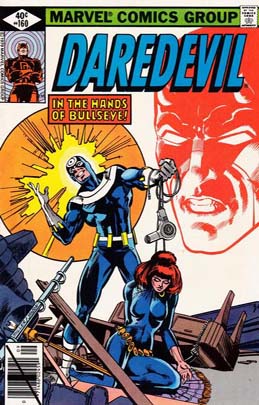 Click panels for larger images
---
From the Mouths of the Marvels:
"This has become a game to him. A sick little game of revenge. He wants me to find him. And, so help me, he won't be disappointed."

-- Matt Murdock, on Bullseye, p. 13
---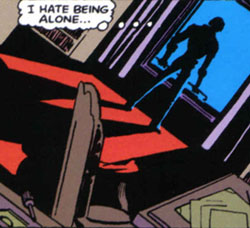 Frank Miller draws a long shadow that falls behind the world-weary Matt Murdock.
(Click panels for larger images.)
Daredevil #160
September 1979 • 17 pages
Script: Roger McKenzie • Letters: Joe Rosen
Pencils: Frank Miller • Inks: Klaus Janson
---
Title: "In the Hands of Bullseye!"

Villain: Bullseye, Turk

First Appearance: "Lark" Logan, Josie

Guest Appearance: Black Widow, Heather Glenn, Becky Blake, Foggy Nelson, Ben Urich, Debbie Harris, "Lark" Logan, Josie

Cameo: Peter Parker, Mary Jane Watson, Robbie Robertson

Innovations: First appearance of Josie's Bar

Letters Page: Page One
---
Synopsis: (continued from DD #159)

Black Widow enters her apartment to find Bullseye waiting for her. He takes her by surprise, and the two have a spirited tussle, but Bullseye overwhelms her, knocking her out. He leaves a message behind for Daredevil after he leaves with her limp body in his arms. Matt accompanies Heather Glenn to her father's grave. During a private conversation, she tries to get him to promise he will never let Daredevil come between them again. When he doesn't answer, she slaps him, telling him she's had enough of his emotional distance from her. As she stalks off, Matt reflects on how he wishes he could have a normal life in love, but his job as Daredevil demands he try to balance two very difficult sides of his life. He decides he should talk to Natasha about this, as only she would understand.

He visits her apartment, and upon entering he realizes that it's a complete mess. He finds Bullseye's note and realizes the trap she's fallen into. He makes a quick trip to get the full scoop on Bullseye's current whereabouts from Ben Urich. The reporter tells him that Bullseye was a model prisoner, even seeing a psychiatrist, until four days previous when he killed the doctor and escaped from the psychiatric ward with a hostage. He made it off scot free and has gone into hiding.

Next, Daredevil heads to Josie's Bar- sans mask- to interrogate an old stoolie named Lark Logan. While there, Turk overhears him talking to Logan and cocks a gun at his head, telling him not to throw names like Bullseye and Eric Slaughter around so carelessly. A barroom brawl erupts in Josie's Bar, with DD using his billy club to knock out the lights and announce to the crowd he doesn't like having a contract put out in his name, and he's going to fight back. After all the bums are knocked out on the barroom floor, DD picks up Turk and tells him to run off to Bullseye and tell him that Daredevil is coming!

(continued in DD #161)

--synopsis by Gormuu

--panel images provided by Avengers Assemble

--letter pages provided by Aussie Stu
---
Issues Reprinted
Daredevil #158-161, 163-167

Click on cover image to learn more about each issue.