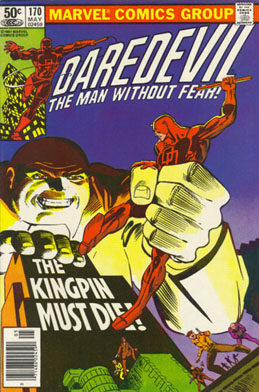 Click panels for larger images
---
From the Mouths of the Marvels:
"Mr. Murdock, Mr. Nelson, please accept my apologies. These men are bodyguards, assigned to me by my husband. He tends to be overprotective."

-- Vanessa, p. 11
---
Just another day at the office for the Kingpin!
(Click panels for larger images.)
Daredevil #170
May 1981 • 22 pages
Script: Frank Miller • Letters: Joe Rosen
Pencils: Frank Miller • Inks: Klaus Janson
---
Title: "The Kingpin Must Die"

First Appearance: Lynch

Villain: Kingpin, Bullseye, Lynch

Featured Thugs: Turk, Grotto, Bruno, Hymie, Jocko

Guest Appearance: Vanessa, Lt. Nick Manolis, Foggy Nelson

Letters Page: Not in supply. Want to donate? Email me!
---
Synopsis: After jogging across the girders of the West Side Highway, and impressing all the civilians there to no end, Daredevil chases down Turk and pries some information out of him about some new underworld rumblings. Turk spills that a five-million dollar contract has been put out on the Kingpin, who has been living in Japan with his wife Vanessa since he retired from his position as New York's "Kingpin of Crime." In Japan, Wilson Fisk, aka the Kingpin, bides his time practicing his skills in martial arts. Before he is able to rudely beat one of his minions who slipped and referred to him as the Kingpin instead of Wilson Fisk, his wife Vanessa enters the room, introducing him to Mr. Harrison of the US Attorney General's office. The Attorney General wants Fisk to betray all his former crime bosses so they can make good cases against them. Vanessa suggests this is a good idea, and she suggests they hire Nelson and Murdock to help with negotiations.

Vanessa flies to New York to meet with Matt and Foggy. After her bodyguards crudely make sure the office is clear, they meet. She offers them $200 thousand dollars retainer for legal services to help represent Fisk in his negotiations. Suddenly, gun fire erupts through the window of the office. Matt clears Vanessa and then races off as Daredevil. He gains a nearby rooftop where he recognizes an old con, Bruno, playing sniper. He's about to flush the area below with a flame-thrower, and winds up accidentally killing himself by falling to the ground before Daredevil can get any information out of him. When Murdock finally gets back to his office, he finds Nick Manolis interrogating Foggy and is told that Vanessa has been kidnaped.

While he is being questioned by Manolis, Bullseye is released from the hospital and is a free man. He heads directly to the employ of gang lords who want to see the Kingpin dead. Bullseye tells them he will do it for ten-million dollars. Daredevil tracks him down to this location and tells him not to reenter a life of crime, especially after he saved his life when he didn't have to. Bullseye launches a fierce, all-out attack on Daredevil, catching him off balance and pushing him out the window of the skyscraper. DD latches onto the building with his billy club cable, but Bullseye snaps it in two. He breaks his fall slightly by grabbing onto a flag, but it rips from the pole. He uses the flag to snag onto a gargoyle, but his weight breaks the gargoyle head off and he continues his plummet to the street until he miraculously falls into the back of a garbage truck.

Meanwhile, at an airfield in Staten Island, a gang of assassins wait for the Kingpin's plane to arrive, as they were tipped off by information provided by the Kingpin's associate Louie the String. Unfortunately for them, the first plane to arrive was a dummy, timed to explode and kill everyone surrounding it. The second plane arrives, and Kingpin disembarks, ready to save his beloved Vanessa.

(continued in DD #171)

--synopsis by Gormuu

--panel images provided by Avengers Assemble

--letter pages provided by Aussie Stu
---
Issues Reprinted
Daredevil #168-182

Click on cover image to learn more about each issue.