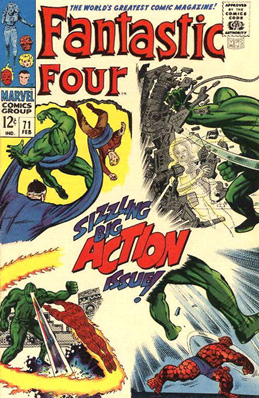 Click panels for larger images
---
From the Mouths of the Marvels:
"You've shared every danger...all these years!! But now...with the baby coming...you can't! You must stay behind...that's an order, Sue!!"

-- Reed Richards, page 14
---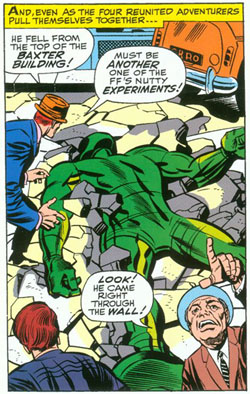 It's a long, hard fall all the way from the top, but the Mad Thinker built his androids to get right back up...in their own way!
Fantastic Four #71
February 1968 • 20 pages
Script: Stan Lee • Letters: Sam Rosen
Pencils: Jack Kirby • Inks: Joe Sinnott
---
Title: "...And So It Ends..."

Villain: Killer Android

Guest Appearance: Crystal

Gadgets & Technology: Electi-Force Beam

Letters Page: Page One • Page Two

House Ads: Ad #1
---
Synopsis: (continued from FF #70)

Sue realizes her worst fears aren't true, and that her husband, brother and trusted friend are not dead, but with the threat of the Android looming, she realizes she has to act fast to save them. While the Android seeks her invisible form, she fires Reed's Electi-Force Beam at him, which stops him for the moment and also revives her teammates. But soon the Android zones in on her, and chases her down. The Thing wakes up and he's back to normal, thanks to the jarring of the Electi-Force Beam, and he introduces the Android to a little "Clobberin' Time!"

He knocks it clear out the building, then turns his attention to the unconscious form of Sue Storm. When Reed and Johnny awake, they see Ben holding her body in his arms and assume he's still evil. They launch a ferocious attack on him, but soon order is restored, and everybody realizes that he's back to normal.

The Android hits the city streets, crashing to the concrete, but soon it is revived and flies back up to the top floors of the Baxter Building to continue the fight. It pummels the Thing, then counteracts the Torch's flame by going into sub-zero mode and encasing the Torch in ice. Reed carries Sue to safety and tells her to stay out of battle, then rushes back to aid his comrades. The Android is about to drop Johnny to the city streets below, but Reed reaches out and pulls the Android back into the laboratory. Reed takes him on in solo battle until he makes a desperate choice to open the door to the Negative Zone, which sucks the Android inside, sending him hurtling through Sub-Space.

Crystal arrives to find Reed rushing Sue to the living quarters so she can recover from the shock. When the rest of the team gathers, Reed makes an announcement: he and Sue are "cutting out" of the FF!

--synopsis and panel images by Gormuu

--letters pages and house ads provided by Karl Mattson
---
Issues Reprinted
Fantastic Four #61-71, Annual #5

Click on cover image to learn more about each issue.