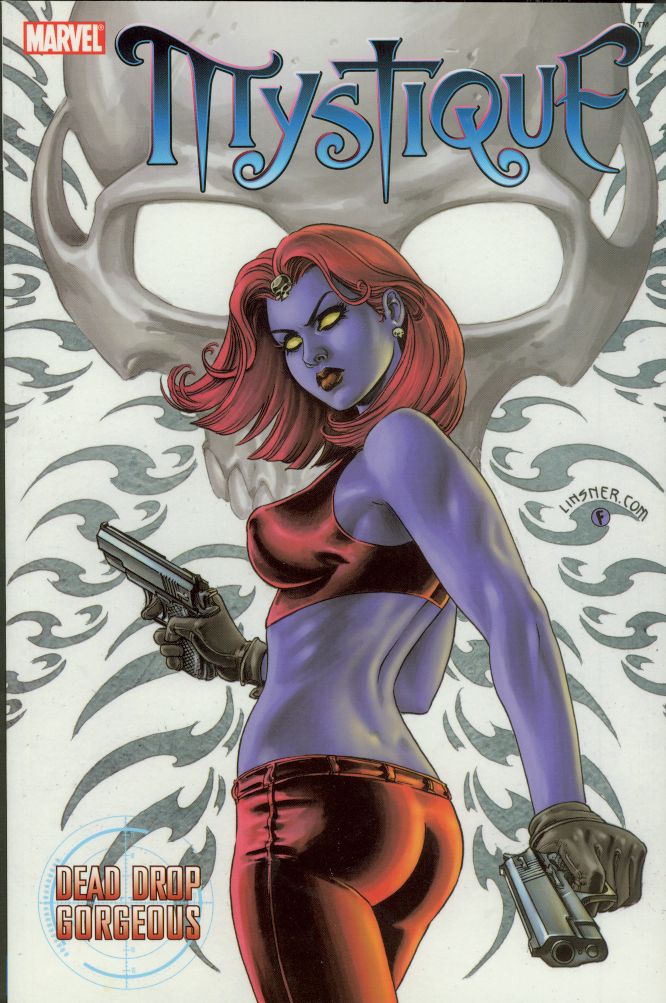 _________________________
From the Mouths of the Marvels:
"Mystique, if you live to be a thousand, you still won't have what it takes to stand before the world as one of my X-Men."
-- Professor Xavier, from Mystique #3
_________________________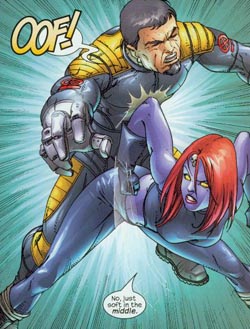 Mystique gives Forge a love tap.
(Click panels for larger images.) _________________________
Featured Characters:
Mystique
Forge
Charles Xavier
Shortpack
Prudence
Steinbeck
General Luis Diosvil
Lazaro Rivera
_________________________ From the Back Cover:


SHE MAY SURPRISE EVERYONE- INCLUDING HERSELF.

Born with the ability to look and sound like anyone, the shapeshifting Mystique is a former pro-mutant terrorist, wanted by nearly every government in the world for alleged crimes against humanity. She's used her morphing powers to stand against the X-Men in their battle for mutant-human coexistence for years- but in this increasingly complicated world, Mystique begins to find the battle lines are no longer so clear. In exchange for protection from her countless enemies, Mystique reluctantly agrees to go to work for Professor Charles Xavier, telepathic leader of the X-Men.

But instead of being invited to join the team, Mystique is asked to participate in politically sensitive operations as one of Xavier's secret agents, operatives who can't be traced back to Xavier in the event of their capture or death. Can this former mutant-rights terrorist, who can disguise herself as anyone on the planet, be trusted?
Mystique Vol. 1:
Dead Drop Gorgeous
---
Reprints: Mystique #1-6

List price: $14.99 (US) • $24.00 (Canada)
ISBN: 0-7851-1240-5
138 pages

Current In-Print Edition: First Print
Original Release Date: 6/23/04
---
Buy From:
TALES OF WONDER: n/a • AMAZON USA: $14.99
AMAZON UK: £8.37 • AMAZON CANADA: $19.20

---
WANT TO DISCUSS OR REVIEW THIS BOOK? Visit us at the MarvelMasterworks.com Message Boards at the DISCUSSION THREAD!
---
Mystique #1-6
Script: Brian K. Vaughan
Artwork: Jorge Lucas
Colors: Daniel Perez Sanchez
Letters: Randy Gentile with Paul Tutrone
Editor: Mike Marts, Mike Raicht, Nova Ren Suma & Teresa Focarile
Collections Editor: Jeff Youngquist
Mystique #1:
23 pages + cover • June 2003
While Mystique is backed into a corner on an espionage deal gone sour, Charles Xavier and Forge carry on a discussion that may influence her future.
* * *
Mystique #2:
21 pages + cover • July 2003
The mutant chameleon Mystique is captured and sentenced to death for her terrorist crimes. When a shocking figure from her past offers her the chance at a new life, will she accept or choose to escape on her own?
* * *
Mystique #3:
23 pages + cover • August 2003
Xavier makes his pitch, and Mystique finds it to be an offer she could refuse, but chooses not to! Next stop: Cuba? What does Xavier need her to go to Cuba for?
* * *
Mystique #4:
22 pages + cover • September 2003
Professor X has sent the mutant chameleon Mystique on a clandestine operation to Cuba. To what lengths will Mystique go to recover the stolen Sentinel technology that threatens the lives of Cuban mutants?
* * *
Mystique #5:
23 pages + cover • October 2003
Mystique gets in deeper trouble as she searches for the stolen Sentinel technology!
* * *
Mystique #6:
22 pages + cover • November 2003
Mystique is faced with a decision that will firmly decide whether she's on the side of good or evil! Will she be able to stop the Sentinels before they reach Havana? Does she even want to?
---
-- synopsis by Gormuu, as well as official Marvel solicits
---