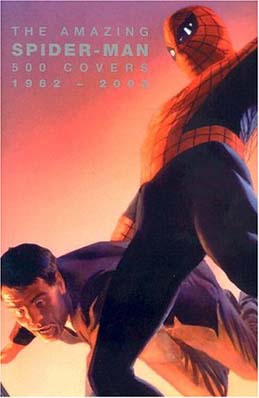 _________________________
From the Mouths of the Marvels:
"And a lean, silent figure slowly fades into the gathering darkness, aware at last that in this world, with great power there must also come great responsibility!"
-- the closing words of Amazing Fantasy #15, the first appearance of Spider-Man
_________________________
From the Inside Dustflap:
More than forty years ago, in the final issue of a cancelled series, Stan Lee and Steve Ditko introduced a bookish teenager named Peter Parker. Granted the amazing powers of a human spider, Parker donned a colorful costume to become the hero Spider-Man. Spider-Man's debut in Amazing Fantasy #15 proved so popular that he soon graduated to his own title, Amazing Spider-Man. Marvel Comics quickly has a blockbuster hit, as devoted readers became captivated with the adventures of this unique new hero.
Amazingly, after four decades, Amazing Spider-Man has only become more popular. Month after month, year after year, readers of every age continue to follow the series as passionately as ever. In 2003, the title reached a rare milestone with the publication of its 500th issue. To celebrate this historic event, Marvel Comics presents a comprehensive hardcover featuring the cover of every single issue of the series ever published.
From the very first issue, Amazing Spider-Man has always offered cover artwork by the most esteemed talents of the industry. From the earliest days of Steve Ditko and John Romita to modern-day classics by John Romita, Jr., Todd McFarlane and J. Scott Campbell, these comic-book covers have entranced readers with tantalizing hints of the story inside. Now, these five hundred covers have been richly reprinted in full color just as they originally appeared in each individual issue.
Accompanying this fine artwork is a complete year-by-year survey of Spider-Man's history, from his earliest days as a teen at Midtown High School to his college years at Empire State University to his current role as young teacher to today's youth. Since 1962, Spider-Man has evolved from a comic-book character to a worldwide pop-culture icon. Amazing Spider-Man: 500 Covers also charts the historical events that occurred throughout his publishing history, from the turbulent times of the 1960s to today.
The Amazing Spider-Man
500 Covers: 1962-2003
---
List price: $49.99 (US) • $80.00 (Canada)
ISBN: 0-7851-1421-1 • Original Release Date: 6/3/04

312 pages

Buy From:
TALES OF WONDER: $34.99 • AMAZON USA: $49.99
AMAZON UK: £25.04 • AMAZON CANADA: $45.17

---
CREATOR CREDITS:
Writers: Jonathan Couper-Smartt & Kit Kiefer with Tom Marvelli
Editors: Jeff Youngquist with Jennifer Grunwald
Cover Art: Alex Ross
Copy Editor: Jake Kornegay
Designers: Patrick McGrath with Meghan Kerns & Julio Herrera
BOOK LAYOUT:
The book is sectioned off into yearly chapters, going from 1962 to 2003. Each year starts off with a single page introduction that includes a synopsis covering the highlights of that year's Spidey action from inside the pages of Amazing Spider-Man. There is also a brief timeline entry that notes the major events of the real world, including politics, music, film, sports, science, and other facets of civic life. Afterwards begins the cover gallery featuring that year's comics covers. Covers are reprinted in either full page splashes or four-to-a-page collections. (I will note below which covers get full page treatment and which get four-to-a-page treatment.) The cover reproductions are hig-resolution scans of longtime Marvel editor Ralph Macchio's personal collection of Amazing Spider-Man. After the regular run of comics covers is reprinted, there is a cover gallery devoted to all Amazing Spider-Man Annuals. The final page of the book is a list of art credits for each cover reprinted inside, including both penciller and inker.
TABLE OF CONTENTS:
1962-1963

Full page: Amazing Fantasy #15, Amazing Spider-Man #1, 6-7
Quarter page: #2-5
1964

Full: #8-9, 14-15
Quarter: #10-13, 16-19
1965

Full: #20-21, 26-27
Quarter: #22-25, 28-31
1966

Full: #32-33, 38-39
Quarter: #34-37, 40-43
1967

Full: #44-45, 50-51
Quarter: #46-49, 52-55
1968

Full: #56-57, 62-63
Quarter: #58-61, 64-67
1969

Full: #68-69, 74-75
Quarter: #70-73, 76-79
1970

Full: #80-81, 90-91
Quarter: #82-89
1971

Full: #92-93, 98-99
Quarter: #94-97, 100-103
1972

Full: #104-105, 110-111
Quarter: #106-109, 112-115
1973

Full: #116-117, 122-123
Quarter: #118-121, 124-127
1974

Full: #128-129, 134-135
Quarter: #130-133, 136-139
1975

Full: #140-141, 150-151
Quarter: #142-149
1976

Full: #152-153, 158-159
Quarter: #154-157, 160-163
1977

Full: #164-165, 170-171
Quarter: #166-169, 172-175
1978

Full: #176-177, 182-183
Quarter: #178-181, 184-187
1979

Full: #188-189, 194-195
Quarter: #190-193, 196-199
1980

Full: #200-201, 206-207
Quarter: #202-205, 208-211
1981

Full: #212-213, 218-219
Quarter: #214-217, 220-223
1982

Full: #224-225, 230-231
Quarter: #226-229, 232-235
1983

Full: #236-237, 242-243
Quarter: #238-241, 244-247
1984

Full: #252, 257-259
Quarter: #248-251, 253-256
1985

Full: #260-261, 266-267
Quarter: #262-265, 268-271
1986

Full: #272-273, 278-279
Quarter: #274-277, 280-283
1987

Full: #284-285, 290-291
Quarter: #286-289, 292-295
1988

Full: #300-301, 306
Quarter: #296-299, 302-305, 307-310
1989

Full: #311-312, 317-318, 323
Quarter: #313-316, 319-322, 324-327
1990

Full: #328-329, 334
Quarter: #330-333, 335-342
1991

Full: #343-344, 349-350, 355-356
Quarter: #345-348, 351-354
1992

Full: #357-358, 363
Quarter: #359-362, 364-371
1993

Full: #372-373, 378-379, 384
Quarter: #374-377, 380-383
1994

Full: #385-386, 393
Quarter: #387-392, 394-396
1995

Full: #397-400
Quarter: #400 (2 variants), 401-406
1996

Full: #410-412, 417-418
Quarter: #407-409, 413-416, #408 variant
1997

Full: #419-420, Flashback -1, 425
Quarter: #421-424, 426-429
1998

Full: #430, 434, 439-441, Amazing Ricochet #1
Quarter: #431-433, 435-438, #432 variant
1999

Full: #1, 6-8
Quarter: #1 (3 variants), 2-5, 9-12, #2 variant
2000

Full: #13-14, 19-20
Quarter: #15-18, 21-24
2001

Full: #25, 29-30, 35-36
Quarter: #26-28, 31-34
2002

Full: #37, 42
Quarter: #38-41, 43-46
2003

Full: #47-50, 500
Quarter: #51-58
ANNUALS

Full: #9, 21 (Spidey variant), '96, 2001
Quarter: #1-8, 10-20, 21 (Peter Parker variant), 22-28, 1995 #1, '97-99, 2000
PENCILS/INKS CREDITS (1 page)
---
-- synopsis by Gormuu