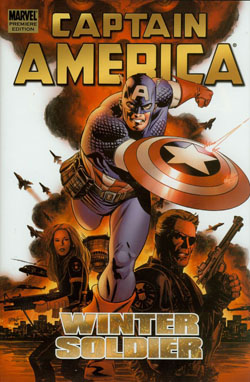 _________________________
From the Mouths of the Marvels:
"No, I didn't show him the file. I want to be one-hundred percent sure about this before I destroy his world..."
-- Nick Fury, about Cap, from Captain America #5
_________________________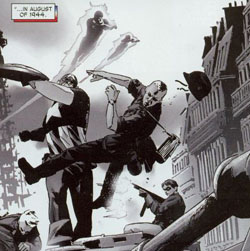 Cap relives the retaking of France in 1944.
(Click panels for larger images.)
_________________________
Featured Characters:

Captain America
The Red Skull
Sharon Carter, Agent 13
Nick Fury
Winter Soldier
Crossbones
Bucky Baxter (in flashback)
Gen. Alexander Lukin
Jack Monroe/Nomad
_________________________From the Inside Dustflap:


A midnight call to duty brings Captain America aboard the SHIELD Helicarrier to identify the corpse of his most feared adversary: the Red Skull! The shocking murder of Cap's oldest enemy may not be the end of the Skull's plans, however, because whoever shot the Skull has stolen his final project: an unfinished Comsic Cube with the potential power to alter reality itself. Adding to the imminent danger, a cadre of the Skull's followers has already set in motion a plan to ignite bombs in the hearts of Paris, London and Manhattan- causing untold death and destruction. Racing against these bombs' rapidly ticking clocks, the Star-Spangled Avengers must not only solve the mystery of his nemesis' murder, but find the Cube before it can be used in the Red Skull's malevolent plot against the United States.

A classic Marvel Comics icon, Captain America has represented the American dream of truth, liberty and justice for more than six decades. Even after the tragic events of Avengers Disassembled, Captain America remains steadfast in his gols of preserving freedom at home and around the world. In this bold new series, writer Ed Brubaker enmeshes the hero in a taut thriller ripped from today's headlines of political intrigue and terrorist threats to democracy.
Captain America Vol. 1: Winter Soldier
---
Reprints: Captain America (Vol. 5) #1-7

List price: $21.99 (US) • $35.25 (Canada)
ISBN: 0-7851-1651-6
168 pages

Original Release Date: 7/20/05
Current In-Print Edition: First Print

SPECIAL BONUS FEATURES: (3 pages total)
Promotional art for Captain America #1
Captain America #6 variant cover
Winter Solider concept sketches
---
Buy From:
TALES OF WONDER: $15.39 • AMAZON USA: $14.95
AMAZON UK: £11.11 • AMAZON CANADA: $24.68

---
WANT TO DISCUSS OR REVIEW THIS BOOK? Visit us at the MarvelMasterworks.com Message Boards at the DISCUSSION THREAD!
---
CREATOR CREDITS:
Writer: Ed Brubaker
Pencils: Steve Epting with Michael Lark (#1-6), John Paul Leon & Tom Palmer (#7)
Colors: Frank D'Armata
Letters: Virtual Calligraphy's Randy Gentile
Editor: Tom Brevoort
Collection Editor: Jennifer Grunwald

---
SYNOPSIS:
Captain America #1
28 pages + cover • January 2005
It's a new beginning as four-time Eisner-nominated Best Writer Ed Brubaker makes his Marvel debut, joined by white-hot artist Steve Epting! As the new regular creative team, they will take Cap's life in directions fans will never see coming! In just this first issue, the Red Skull lays the groundwork for his most devastating attack ever on Captain America and the land he holds dear...and with the Cosmic Cube in his possession, how can Cap hope to stop him? Find out in the shocking twist-ending that will have everybody in the industry talking!
* * *
Captain America #2
21 pages + cover • February 2005
Cap is awakened in the dead of the night by Agents of S.H.I.E.L.D. who need the kind of help only he can provide. But the corpse he finds on the Heli-carrier brings him face-to-face with the unthinkable, and opens doors to terror and manipulation that he never dreamed possible.
* * *
Captain America #3
21 pages + cover • March 2005
Pursuing the Red Skull's mysterious trail brings Cap and S.H.I.E.L.D. Agent Sharon Carter into a brutal crossfire between warring factions of A.I.M. What does one of these groups have to do with the Skull's evil plans? And, is it just their imagination, or are Sharon and Cap being followed?
* * *
Captain America #4
21 pages + cover • April 2005
Home from his European excursion with S.H.I.E.L.D., Cap finds a new assault on his honor and the things he holds dear. Were the days of chasing down the Red Skull's minions simply a diversion? And why are his own memories suddenly playing tricks on him? The ground-breaking new team of Ed Brubaker and Steve Epting, with additional art from Harvey and Eisner award-winner Michael Lark, continue the twists and turns of the darkest mystery Cap has ever faced!
* * *
Captain America #5
21 pages + cover • May 2005
The mystery heats up, as clues begin to fall into place. But are the secrets Cap is searching for buried in a long-forgotten Invaders mission from the Russian front? Find out in this special flashback issue drawn by Harvey and Eisner Award-winning guest artist Michael Lark, with framing sequences by series regular Steve Epting!
* * *
Captain America #6
21 pages + cover • June 2005
Who killed the Red Skull? Who is the mystery assassin we have yet to see? This issue answers those questions and more! The hunt for the killer of the Red Skull takes a bizarre turn and Steve Rogers' life turns with it. Shattered fragments of Cap's past are called into question by new memories that keep flooding his mind. Is someone playing mind games with him, or has he been in the dark about certain events for years? Only a trip to the scene of his most devastating failure will answer that question.
* * *
Captain America #7
22 pages + cover • July 2005
In this interlude from the Winter Soldier storyline, the story of Jack Monroe's last days is told.
-- synopsis and panel image by Gormuu
---