MarvelMasterworks.com cub reporter Schatzie has filed an urgent news report from the floor of Wizard World Long Beach. He has made an eyewitness sighting of a preview copy of Golden Age Captain America Masterworks Vol. 1! Here's his report, dateline today!
"I met David Gabriel and he showed me the Golden Age Captain America Masterworks volume. The art reproduction looks great!!!!!!!!!!!!!!!!!!!! It is light years better than the reproduction in the Captain America: The Classic Years TPB. Do yourselves a favor and order this book now!!!!!!!!!!!!!!!!!!!!!!!!!!!!!!!!!!!!
My friend who is a Cap fan that has never bought a Masterwork in his life looked at the Golden Age Cap volume and was so impressed with the product that he is going to buy a copy! So spread the word, Marvel has heard the call and has produced a winner with the Golden Age Captain America Masterworks!!!!!"
BUY from Tales of Wonder!
Posted here are the cover images to the regular and limited variant covers to GA Cap Vol. 1!
With its street date of March 23 right around the corner, fans of Marvel's Golden Age are eagerly awaiting the arrival of the first installment of what will hopefully be several volumes of Captain America's earliest stories. Golden Age Captain America Masterworks Vol. 1 will reprint in full the contents of Captain America Comics #1-4, which includes the first couple hundred pages of Jack Kirby and Joe Simon's seminal adventures featuring the red, white and blue shield-slinging hero of modern American folklore. These comics panels will never have looked this good, burnished and brightened for not only the old generation who grew up with them to treasure, but for a whole new generation of comics fans who have never even laid eyes on these pages to fall in love with.
Most fans are only familiar with the Silver Age incarnation of the star-spangled super-soldier. Steve Rogers has stood the Marvel Universe proper in good stead in the forty years since he reported back for duty in the pages of Avengers #4, but he had a previous life that is still a mystery to many an avid comics reader. Golden Age Captain America Masterworks Vol. 1 will help solve that mystery! The year was 1941, and Steve Rogers reported to US Army doctors to undergo secret tests to transform him into a fighting weapon that would give the Axis Powers a serious speed bump in their drive towards world domination. He took the super serum and it worked! For four more years, Cap and his young partner Bucky would fight on behalf of liberty, both at home and on the front lines! He would become the red, white and blue symbol of American democracy, ready to plant the flag of freedom wherever those who would deny it to others stood ready to tear it down!
But a real treat for comics fans is the inclusion of all backup stories from the first four issues. Captain America Comics wasn't all Captain America! Two features which made their premiere in these books were the adventure strip starring Tuk, the Cave Boy, and the elemental hero named Hurricane (many decades later revealed to be Makarri of the Eternals!) Both strips have rarely- if ever- been reprinted, and only add to the faithful and complete reprinting of Marvel's earliest comics.
Golden Age Captain America Masterworks Vol. 1 stands as the second volume of Marvel's Golden Age classics to be so honored, following last fall's Golden Age Marvel Comics Vol. 1. That book was a sales blockbuster, and after receiving feedback from fans excited to get their hands on such classic and absurdly hard-to-find stories, Marvel went all-out on reproduction for this seminal work. In this preview, you can see images of eight of the 250+ pages that will be reprinted in the upcoming book. Marvel has proven with its revamped Masterworks program that it can lovingly restore its Silver Age and Bronze Age Masterworks (see the jaw-droppingly excellent work done in Avengers Vol. 4, Hulk Vol. 2 and Uncanny X-Men Vol. 4 and 5 for proof on that score!)
But materials for those books are exponentially easier to acquire than those the Golden Age line of Masterworks needs to have access to. Thus, after actively seeking out constructive criticism from its first attempt at reprinting Golden Age stories, Marvel acted by retooling its process. For an insight into the production process behind GA Cap Vol. 1, here is Golden Age Masterworks editor Mark Beazley: "Film doesnít exist for Golden Age materials and good luck finding original art work. Although the main Captain America stories that weíre reprinting in the Marvel Masterworks: Golden Age Captain America Vol. 1 had been previously reconstructed for the Captain America: Classic Years TPBs, those reprints didnít collect the text stories, house ads, or back-up stories contained in Captain America Comics #1-4, nor did they try to accurately match the original coloring.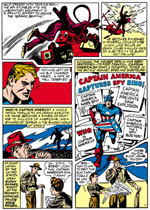 When we encounter instances where no original art of film is available with our Silver Age Masterworks, we dig up a printed copy of the book and have the pages reconstructed using hi-res scans or color photocopies. Unfortunately Marvelís archives donít go back to its earliest days of publishing and itís extremely difficult to find someone willing to scan or photocopy their comic thatís likely worth thousands of dollars. Thankfully Steve Geppi of Diamond Comics was kind enough to provide color copies of Captain America Comics #4, and a call for help on the Marvel Masterworks Message board put us in touch with fan Harry Mendryk who graciously scanned his copy of Captain America Comics #2. That allowed freelancer Matt Moring to reconstruct those pages for us.
Our only available resource for some of the stories from Captain America Comics #3 was microfiche that had originally been intended as an archival reproduction for libraries. They photographed a printed copy of the book and put each full issue on one sheet of fiche. So on these sheets of microfiche each individual page measures about 5/16 of an inch wide by 7/16 of an inch tall. What weíre doing is having these scanned at an incredibly high resolution to get it to a usable size and then we have freelancers who work their computer magic to reconstruct the line art as it originally appeared. Jamison Services and All Thumbs Creative have done a fantastic job restoring these pages to their original state as you can see in the samples weíve provided. I donít think the cover to Captain America Comics #1 has looked this good since it originally printed."
Respectful line art reconstruction, faithful coloring, and making sure all contents are included has to be a Golden Age fan's dream come true. But speaking of making a Golden Age fan's dream come true, let's ask one who has the dream job of helping restore comics he really loves. Restoring many of the pages included in the backup features of GA Cap Vol. 1 is die-hard fan Matt Moring: "It's both a great challenge and a great opportunity to work on this book. It was important to me to take my time and remain completely faithful to the original art and I think readers will enjoy it." If any comics fans have to wonder if this is just a job for some of the people working on this book, fear not. They're just as big a fan as you or me.
Now, feast your eyes on some sample images provided by Marvel. First up is that cover to Captain America Comics #1 that editor Mark Beazley was bragging about. Then, there are three sample pages from Cap stories, two from Tuk, and two from Hurricane. It ought to give you a good idea of what your comics dollars will buy you! It will be a great pleasure for me to be able to finally have this book in my library, and to crack open and luxuriate in its comics reading pleasure. I hope you enjoy it too!
---
PREVIEW PAGES
Golden Age Captain America Masterworks Vol. 1

Click on image thumbnail to access larger image.